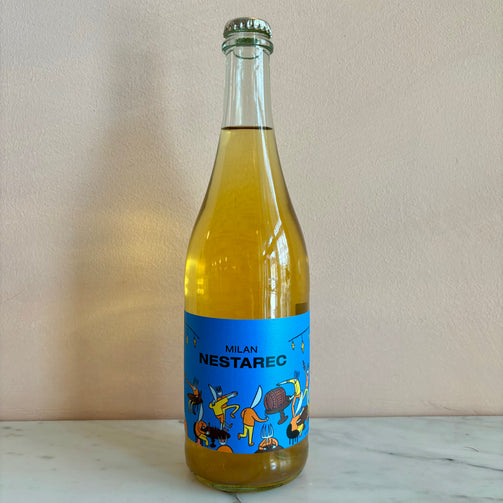 Milan Nestarac "Forks & Knives" White, Moravia, Czech Republic 2019
Milan Nestarac "Forks & Knives" White, Moravia, Czech Republic 2019
Regular price

Sale price

$40.00
From Jenny & François: 
The Wine: Milan on this wine: "For me & my family, wine is like food, something that should be on your table every day. Our bread and butter (literally). This is the kind of wine I wanna make: affordable, everyday, friendly stuff. Not something for the upper class, not something you need to swirl your glass and head around, talking about viscosity or minerality for ages (no offense, but jeez do I hate this word). My wine is for drinking, not for flashing posh terms. And the Forks & Knives range is a perfect embodiment of this. The F&K range started with the 2014 vintage – I met Fleur Godard, my French importer, in Cologne, along with Justine Saint Lo, a wonderful illustrator who also happens to be the sister of Francois Saint Lo, a great Loire Valley winemaker. Back in my cellar, when tasting the then nearly-born wine, we had a revelation: it was fate that decided Justine should make the labels, which I've kept ever since – I love their power to communicate the easy yet entertaining "everyday wine for any meal & table" vibe that this wine is all about."
Making of: Each grape variety is hand-harvested separately, selected on sorting table and destemmed. The grapes are then macerated on the skins overnight, and each variety is gently pressed separately. 40 days of spontaneous fermentation with indigenous yeasts in tanks. Cofermentation of all varieties is then aged in big neutral barrels (2-12 years old) of 3000 liters for about 17 months in order to naturally settle. No sulfur added, no fining, no filtration.
The Producer: Milan Nestarec is not a winery. Nestarec is ideas that just happen to be represented through wine," reads one of the first lines on this Moravian prodigy's captivating website. It is a fitting description: first, because the sheer diversity and dynamism of Nestarec cuvées reflect the centrifuge in his head ("my colleagues must sometimes hate me and my constant chorus of "can't we do it better / differently?" he admits with a chuckle). Secondly, because there's a gradual development of Nestarec wines towards more precision and "essence over style", which absolutely reflects the winemaker's personal journey – and it's quite a fascinating story to follow. (And drink.)
Where is the starting line for someone born in the biggest wine-growing village in the Czech Republic, where virtually every family had a couple of vines planted somewhere and made wine for their own consumption? Although Milan's father originally repaired roofs for a living, wine was always present in their daily lives – so much so that Milan never even considered another career, ever. The family journey towards professional winemaking started when he was little, after the Velvet revolution in 1989, when the Czech state returned to them a tiny plot previously confiscated by the communists (the socialist regime forbade virtually any private business after WWII, including farms), and Milan's father started to season-work in a German vine nursery. 
Couldn't load pickup availability