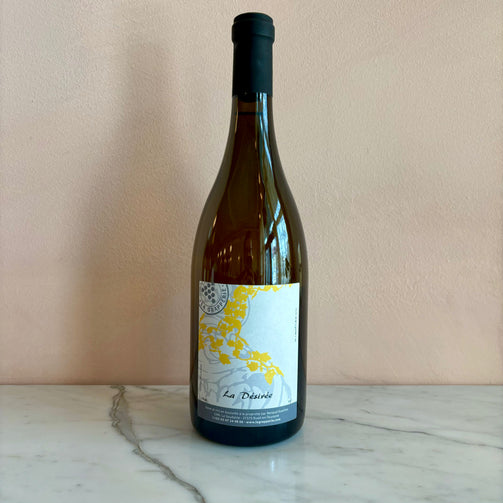 La Grapperie, "La Désirée" Loire Valley, France 2017
La Grapperie, "La Désirée" Loire Valley, France 2017
Regular price

Sale price

$44.00
From Jenny & François:
Vineyard: blend of different sites in Dissay-sous-Courcillon. Vines aged 50 – 115 years, grown on silex, clay, and limestone 
Yield: 25 Hectoliters/Hectare
Grape: Chenin Blanc
Cellar: The grapes, after being harvested and selected by hand, undergo a long pressing. The fermentation happens naturally and is followed by 24 months of aging on lees, in oak barriques. Bottled without fining, filtration, or sulfur addition.
"Sometimes when I find them they are merely old, gnarly bushes, long forgotten, but they have enormous potential and add extraordinary vigor and focus to my wines," Renaud Guettier explains his passion for the vielles souches, or "old stubs", as he affectionately calls them, that inhabit his vineyards. And when we say old, we mean it: the average age of Guettier's plots floats somewhere around 80 years, and a whole third of them is more than a century old. Renaud has collected this treasure over the years, buying tiny vineyards around the village of Bueil-en-Touraine (where he's based) when he saw the opportunity. From the initial half a hectare bought off his stepfather in 2004, he's now at 6.5ha, separated into 25 different tiny plots. To restore these often derelict veteran vines back into production is no small feat—you have to regraft, reprune, replant and re-build the support, but as Renaud says, it's worth it.
And so it is—La Grapperie's wines count among the most compelling and chiseled wines you'll encounter in the Loire Valley. The Chenin-based whites do justice to this cultish grape, with their lush flavors of ripe fruit cut through by flinty tang and vibrating acidity; the reds made from Pineau d'Aunis, one of the truly historical Loire-Valley varieties, wow you with hours worth of succulent fruit, crushed peppercorns, well-sculpted tannins and smoke.
These are true vins du terroir, clearly revealing that they're rooted in some prime silex-clay on limestone subsoil. (The very limestone—locally called tuffeau—that allowed for the construction of the world famous Loire Valley chateaux not far from Renaud's cave.) Guettier exalts the potential of this land and old vines by meticulous viticulture: painstakingly taking care of each vine by hand, using no herbicides or pesticides and only organic and biodynamic plant treatments; the estate is certified-organic since 2007. 
The policy of disturbing nature as little as possible continues in the cellar, of course: grapes and musts are moved along by gravity, all fermentations happen spontaneously, and the wines are then aged in old oak vats in the impressive cellar below, built in a former limestone quarry. The élévage takes at least a year, but usually two or more for each wine. This patient wait is an essential stage "when making wines without any addition at any stage, you need them to stabilize naturally, which means giving them enough time to settle down and develop," as Renaud explains.
And the wines, once again, prove him right. The mastery, respect, patience, attention to detail, everything is in there. Opening a bottle of La Grapperie is that kind of jubilatory moment when you indulge in the rare synergy of nature's finest fruit sublimed by a savvy human. Like taking a bite of a top ingredient elevated by a skilled chef, it's a moment when you're happy to be alive.
Couldn't load pickup availability