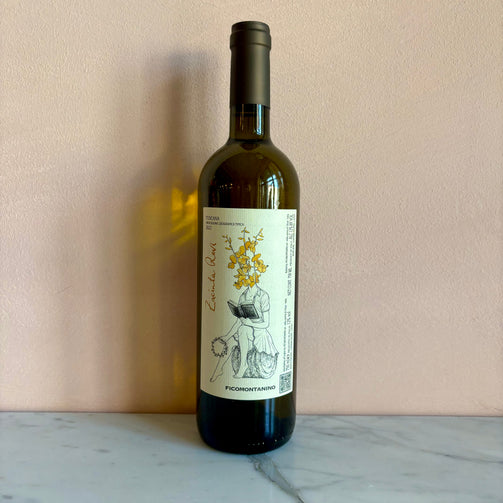 Ficomontanino 'Zacinta Revi' Bianco IGT Toscana 2022
Ficomontanino 'Zacinta Revi' Bianco IGT Toscana 2022
Regular price

Sale price

$38.00
From Rosenthal:
Named after one of the family's beloved horses, the wine is 70% Sauvignon Blanc with 30% directly pressed Sangiovese (Sangiovese vinified as a white wine, in other words) added for complexity. Maria Sole allows the Sauvignon Blanc to macerate on its skins for three days: enough time to contribute a bit of color and to enhance the wine's textural persistence, but not enough to turn it into a full-bore skin-contact-style white. The results are delightful, with tangerine, anise, and musky flowers supported by firm minerality and tangy acidity. The fruit for "Zacinta Revi" comes from 20-year-old vines in the chalky clay soils of the Poggio alle Ficaie vineyard at 350 meters altitude, and Marie Sole aged it for six months on the fine lees in stainless steel after a natural fermentation without temperature regulation.
Maria Sole's farm is called Ficomontanino (roughly, "Little Fig Mountain"), a property her grandfather acquired in the 1960s as a place to produce olive oil and breed horses. Situated in the far southeast of the region near the town of Chiusi, Ficomontanino is administratively part of Tuscany, but geographically and spiritually it speaks to both Umbria and Lazio, both of whose borders are mere kilometers away. From her 12 hectares of vines, planted at around 350 meters altitude on the south-facing slopes of her family's property, one can see Lake Trasimeno in Umbria to the east, the mountains of northern Lazio to the south, and the rolling hills of Siena to the northwest.
Maria Sole's grandfather planted the first vines here almost 40 years ago, making wine as a hobby, and while Maria Sole's father ramped up production a bit, his approach was more conventional, informed by then-current trends toward power and color. Having studied at Slow Food's University of Culinary Arts at Pollenzo, Maria Sole was inspired by the teachings of Rudolf Steiner and Masanobu Fukuoka to reimagine her family's vineyards as part of a larger ecosystem, and when she gained responsibility for them in 2014, she set about establishing a natural equilibrium on the property, incorporating biodynamic preparations, allowing vegetation to grow freely, and relying on only bare traces of copper-sulfate to treat her vineyards.
She has gradually been refining her approach in the cellar as well, working toward ever more expressiveness via ever fewer interventions. Maria Sole's mother is from Sardinia, and she was inspired to drastically alter her approach to temperature control, sulfur, and other such safeguards by the bold, proudly natural wines of Tenute Dettori (located near to her mother's birth home), as well as by numerous examples from Piedmont, where she worked after school for a number of years. Her cellar sidekick Fabio, originally from the Valtellina, worked at the legendary Ar.Pe.Pe estate, and both he and Maria Sole bring a certain appreciation of reined-in, precise wildness to the overarching aesthetic of Ficomontanino's wines.
Couldn't load pickup availability