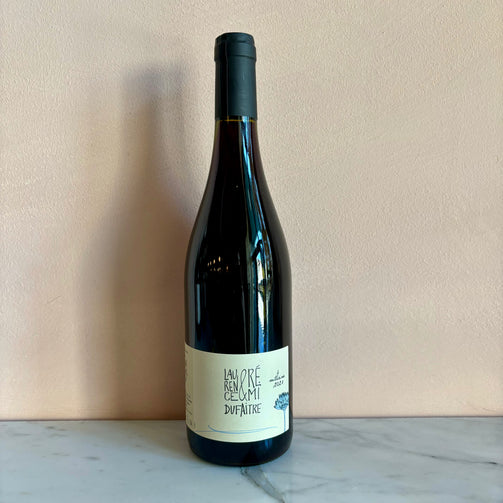 Dufaitre "Cote de Brouilly" France 2021
Dufaitre "Cote de Brouilly" France 2021
Regular price

Sale price

$38.00
From Jenny & François:
Age of Vines: 80 years old
Varieties: Gamay
Vinification Method: The Cote de Brouilly is fermented in concrete tanks and then ages in the same tanks for about 6 months. The wine is generally bottled the same time as the Brouilly.
Tasting Note: The most powerful of Rémi's wines, the Cote de Brouilly is still balanced with an astonishing amount of finesse, and is perfectly drinkable in it's youth, but will also blossom into something more special in 5-10 years time.
Rémi and Laurence (his former wife) Dufaitre began purchasing vines in and around the Brouilly and Cote de Brouilly crus in 2006, he began to work the land organically, and started harvesting the grapes. Rémi started by selling his grapes to the local co-op, all the while monitoring the indigenous yeast population until he felt it was healthy enough to make his own wine. In 2010 he made and bottled his first vintage. When Jean Foillard tasted Rémi's wine, he immediately sought him out, recognizing the obvious talent that must be behind the wine. Jean has since taken Rémi under his wing, introducing him to his vast and diverse list of Parisian clients. Remi's wines currently have a very avid following in the bustling Paris natural wine scene as a result of this.
Rémi is a member of the informal group that has evolved from Kermit Lynch's "gang of four," the producers in Morgon who studied with natural-wine-pioneer Jules Chauvet (winemaker and biologist), making natural wine (Foillard among them). This group has grown to include younger winemakers like Rémi, who are working in the same spirit. If you find yourself in Villié-Morgon on a Sunday morning or afternoon, take care because this group is likely to envelop you and make you drink Beaujolais all day until the wee hours of the morning!
Rémi makes wines in a classic carbonic style, using whole bunches, which are carefully sorted to avoid broken grapes or rot. He adds some carbon dioxide gas to protect the grapes at the beginning of fermentation and does not use any temperature control. He avoids foot-stomping the grapes unless he sees some volatility starting to creep in. His goal is to have as little juice in the tank as possible. He also performs routine analysis to see how the yeast is performing and whether or not there is any volatility. Remi makes all his wines with the same method, thus we can really see and taste the differences between the sites, with minor differences in the elevage of each cuvée. He tastes each cuvée before bottling and may decide to add between zero and 2 mg of sulfur, depending on how stable he judges the wine to be.
Couldn't load pickup availability